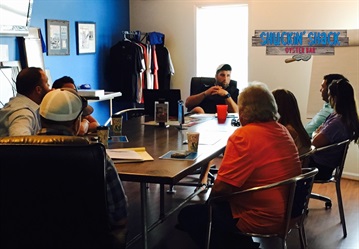 Discovery Day - The Shuckin' Shack Way
Finding the right franchise partner is very similar to finding the right life partner; both "marriages" are long term commitments to another person or family that will require patience, cooperation and collaboration along the way. This is why the Shuckin' Shack restaurant franchise has been denied more times than it has been awarded - we are picky partners. And it's also why our Discovery Day is a requirement in our franchise awards process. Not only does spending a day with our team help prospective franchisees experience "The Shack" within three different locations to hear about the many benefits our franchisees receive, it also gives our team a chance to understand the values, work ethic and background of those who may want to become franchise partners in the near future.
Our Shuckin' Shack Discovery Day is an invitation only event that typically happens once per month and for no more than five potential candidates. During yesterday's Discovery Day we had three different groups represented for new markets in both South and North Carolina. These candidates had already completed a series of steps including providing an application, a financial review and a background check. When the market a qualified candidate has in mind is in alignment with our target markets for growth, an invitation will be extended by our Franchise Development Director, Mario Piccinin. Past Discovery Days attendees found them highly engaging because there is a good mix of exposure to at least two restaurant locations combined with brief, informative sessions on topics like Marketing, Retail Site Selection, Operations, Training & Support, Financing and more. And of course everyone appreciates the free food sampling and Q&A session!
If you have a sincere interest in pursuing the Shuckin' Shack Oyster Bar restaurant franchise and joining our 10 restaurants already in operation, complete all steps necessary so that you'll receive your invitation to an upcoming Discovery Day to have all your questions answered by our team and to learn about the many benefits of becoming a franchisee of "The Shack".
Shuckin' Shack is actively seeking single or multi-unit franchisees for the Norfolk-Virginia Beach-Hampton Roads markets in coastal Virginia. If you are considering food franchise or pub franchise opportunities for this market, click this special page to learn more about why this market is so ideal for the Shuckin' Shack Oyster Bar restaurant & pub.