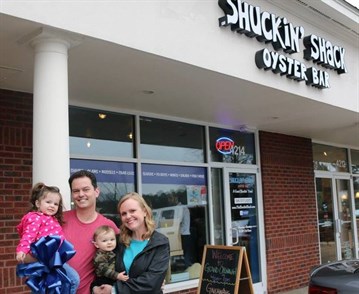 Confessions of a Multi-Unit Franchisee
It takes a lot of confidence to take risk your hard earned money and invest in an emerging franchise brand that has just a few locations. But it takes something even greater to commit to opening THREE restaurants in a brand new market. As you'll read below Brad Barbour was one of the earliest multi-unit franchisees for the Shuckin' Shack restaurant franchise. With his first Cary, NC location preparing to celebrate it's second year of success and a second Cary location being constructed, we wanted to ask him about his confidence in our brand, any surprises he may have experienced and his recommendations for others considering the same path to franchise business success. Here's what Brad had to say during a recent phone interview:
Let's start with explaining how you discovered the Shuckin' Shack Oyster Bar restaurant in the first place.
I'm an University of North Carolina Wilmington Alum, and my family spent a lot of time in Carolina Beach over the last ten years. My wife and I were customers at the Shuckin' Shack. It was always our favorite place to go and every time we were down we'd swing in. Even when we started having children, we'd bring our newborn three-week old daughter was in there when she was born.
Did you have restaurant or business ownership experience before being awarded a multi-unit franchise agreement?
I'm a CPA - my background is in accounting finance. I have been a small business owner, and my wife and I both worked in restaurants at some point along the way as well. But as small business owners, we were constantly looking for other opportunities to kind of grow what we were doing. We looked at three or four other concepts and they don't seem to quite be what we were searching for. But in 2014, when we were actually at The Shack having a beer and my wife mentioned that, "Hey, these guys are franchising now." So here we are!
For many people the idea of operating one restaurant might be stressful, but you agreed to open three! What did you see, from a financial perspective - as a Certified Public Accountant, that made the Shuckin' Shack opportunity worthy of your investment?
We're in a good market and we noted other local restaurant that opened one location - did well - then would go across town - open another, then go across town the other way and open another one. So we thought that the market would sustain three, especially at only 1,500 - 2,000 square feet! I thought we could do the same thing given enough distance, because the triangle, it's a conglomerate of cities. Each area has their own unique flavor and attributes. So we could go into each of the different areas and bring an excellent concept. We were also noted that as we built the name and brand and concept, there'd be some economies to scale. Those radio ads I'm paying for right now are benefiting my one store, but when there's two stores open come this fall, I'm not having to pay double on radio ads. So I it's paying the same thing except getting more benefit from it.
And now you have a third Shuckin' Shack restaurant in the pipeline to benefit from those media investments as well.
I've got a third unit in the pipeline! Got a lease and that'll become a 2018 project - we're keeping an eye on it, but there's nothing actively going on with it right now.
Earlier you mentioned looking at three or four other opportunities; What types of businesses were you considering before becoming a franchisee of "The Shack"?
We looked at the numbers for a national ice cream chain. We looked at the numbers from a national barbecue franchise. We looked at the numbers from a sandwich chain. A lot of times, the numbers just didn't make sense. End of the day, it doesn't matter how much you like a concept, the numbers got to work
-
You've got to take emotion out of it completely. We couldn't get our head wrapped around it to make it work for those other concepts. But we sat down, met the guys Matt, Jonathan, and Sean, and the rest of the team and looked at the numbers and the numbers made more sense than anything else that we had looked at.

With your first Cary, NC restaurant open for nearly 18 months now and the second Cary location being built, what would be the biggest surprise any new Shuckin' Shack franchisee should prepare for?
There were a couple of surprises that we got: One of them was we knew food costs on seafood would be high. It's just the nature of it, but there has been a little bit of volatility in a few of the products. Some have evened out over time, but others really hadn't. The good thing is we've got a number of vendors and Matt sends out a weekly report on Sundays highlighting all the vendors and who has the best price. They are definitely assisting with the seasonality of seafood. One of the other surprises, that really surprised me was Yelp - the online review site. We've got rave reviews on Google. We've got rave reviews on Facebook. Yelp, we've got pretty good reviews but I found it interesting how someone will love your food, love your service, love everything, "I didn't like your to-go cups" - one star. But after doing it for 18 months now, I found people read the good reviews and the bad reviews and having bad reviews gives more validity to the good reviews.
As someone who will soon be operating two, and eventually three, Shuckin' Shacks, what's the most important tool available to manage your multiple restaurant locations?
We have a very robust POS (

Point of Sale)

system and I'm certain we're only using probably a tenth of it's capability. But I've got the app on my phone and I've got cameras in place. So, I can look on my app at any given point and see who's clocked in, I can see what the sales are for the day, I can see comps and sales voids so
I know when to ask questions of my staff. I was on daddy duty last night while my wife was out of town, and I could look and see where sales were at - I could see who was working. When my second location opens, it's just adding a region - so, I can look at two stores at once and dive down into the numbers. Last night I could see that there were three comps and all three were for our "kids eat free on Tuesday" promotion. So I could see food's not running out the door. T
he technology is there. and when restaurant number two gets going, we are just adding it right on.
If you had to do this all over again, what's the ONE thing you would change?

I can't say I'd change much. I had a steamer go out on me last week. During the construction phase of the first restaurant, I was on a budget - I was on a very tight budget. I bought used equipment - a big piece of that used equipment, went out and I had to buy a brand new one. But even looking back, I'm like, "Well, I did what I had to do to get open." So would I change that? No. I don't think I'd change that at all. It hurt cutting that check last week, but I was financially able to do so.
Final question Brad: Would you recommend the Shuckin' Shack franchise opportunity to your family or friends?
Oh, absolutely. I love the concept first and foremost because we fell in love as customers first. Then, after the numbers made sense, we fell in love as business owners. We really appreciate Matt and Jonathan and the rest of the team - enjoy working with them. I'm really excited to see how we continue to improve things as we get bigger and get more franchisees in and increase our buying power. So, I definitely think we're on a good path.
And anyone else coming on board now is going to reap a lot of the benefits that ... It's not to say there weren't any growing pains along the way and I'm sure we'll continue to see some growing pains, but anyone that comes on now is really going to reap the rewards that Matt and Jonathan put in, and then the original three or four or five franchisees that opened put in. So, anyone coming on now is going to have a really good time!
If you find yourself anywhere near Cary, North Carolina be sure to stop into Brad's very first
Shuckin' Shack restaurant
and say hello!