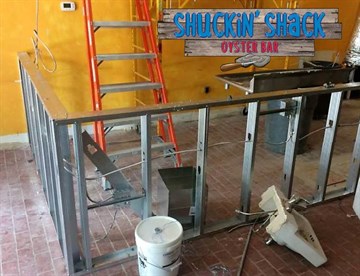 Durham NC Shuckin' Shack Makes Progress
Two months ago we announced that our Durham, NC franchisee, Phil Yong, received approval to begin construction on his new space at 2200 West Main Street. Since then Phil has been posting an occasional photo (see attached) of the work being done to turn this old restaurant space into a genuine Shuckin' Shack Oyster Bar & Sports Pub restaurant! While Phil is a veteran restaurateur, doing it "The Shack" way requires some special equipment and a restaurant layout that is ideally suited to make best use of small spaces. According to Shuckin' Shack CEO, Jonathan Weathington, he predicts the Durham location will be open in early fall - just in time for the start of football and hockey season! If you live near Durham or visit the RTP frequently, be sure to LIKE our Durham Shuckin' Shack Facebook page to stay in the loop on their progress, promotions and the announcement of their grand opening!
If you would like to open your own Shuckin' Shack restaurant franchise in Fayetteville, NC - visit our special opportunities page today!